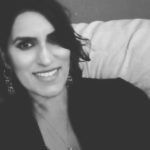 Hi, I'm Dr. Nadia, a board certified Pediatrician, wife, mom of two sassy tots, yogi, writer and artist. I enjoy travel, good eats, the outdoors —to name a few!
My passions include advocating for the health and happiness of kids and their caregivers, healthy living, mindfulness, yoga, supporting local community, and empowering moms to be their best selves.
Motherhood is a journey and we can motivate and inspire each other. Thanks for joining me here and I look forward to hearing from you!